Congratulations to CHS, LHS, LPS, and HHS on the award of new 21st Century Community Learning Centers three-year grants. With these awards and four grants awarded last school year, Russell County Public Schools now has 21CCLC grants serving each of our schools. The start date for Morning Remediation and After School activities is Monday, September 11, 2023. After School Students should complete a registration form and make sure they have a RCPS Health Form on file for field trip adventures! Morning Remediation will be held from 7:30 am-8:30 am Monday through Friday. After School is scheduled for Monday, Tuesday, and Wednesday of each week from 3:30-6:00. An after-school snack and transportation are provided for all participants. See your school's 21CCLC Site Coordinator for transportation details. Highly qualified instructions will guide the students through remediation, homework help, one-on-one tutoring, time in tech labs, learning through enrichment, sessions with a career focus, fitness, healthy cooking, and many other valuable life skills! Check out each school's monthly calendar of events posted on their school websites and social media, in the school's main office, and also sent home with students! For more information, contact the 21CCLC Site Coordinator at your child's school.
Parents/Guardians: The new PowerSchool Parent Portal is open. We appreciate your patience as our teachers learn how to navigate the new system and integrate students' grades correctly into the Parent Portal.
This is a reminder that RCPS is offering Tele-Health options for all students in our schools. Every student received a packet from Ballad Health. This packet must be completed in full and returned to the school nurse. When the nurse has completed paperwork and the student becomes sick at school, if the school nurse determines it is necessary to see a health care provider, they will contact the parent for consent. With consent the nurse will setup a tele-visit with a Ballad health provider. The provider or school nurse will communicate with the parent after the visit. Any information associated with Tele-Health visits is protected by HIPPA and FERPA laws and will not be shared inappropriately.

Back to School Health Coverage through Medicaid and FAMIS. Medicaid now includes Dental Coverage for Adults! Go to
https://coverva.dmas.virginia.gov/
or contact your local DSS for more information.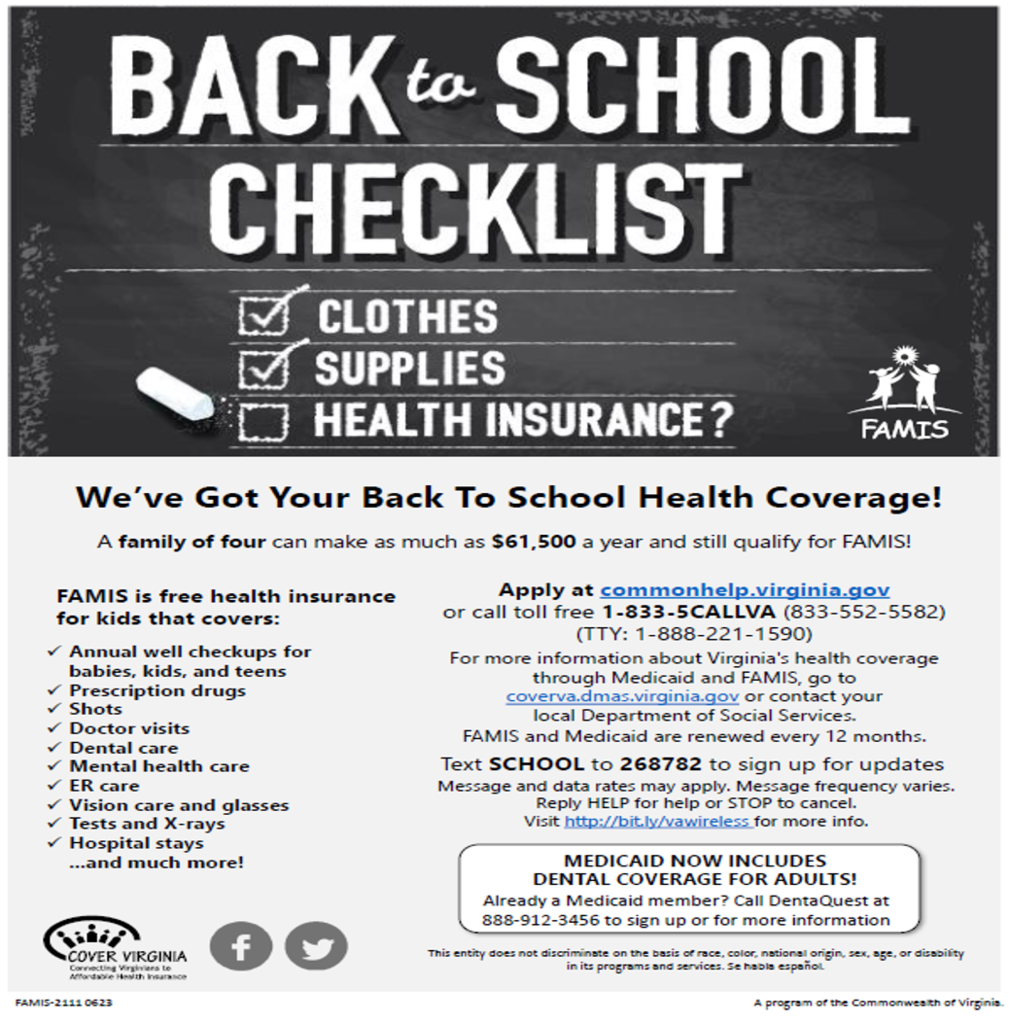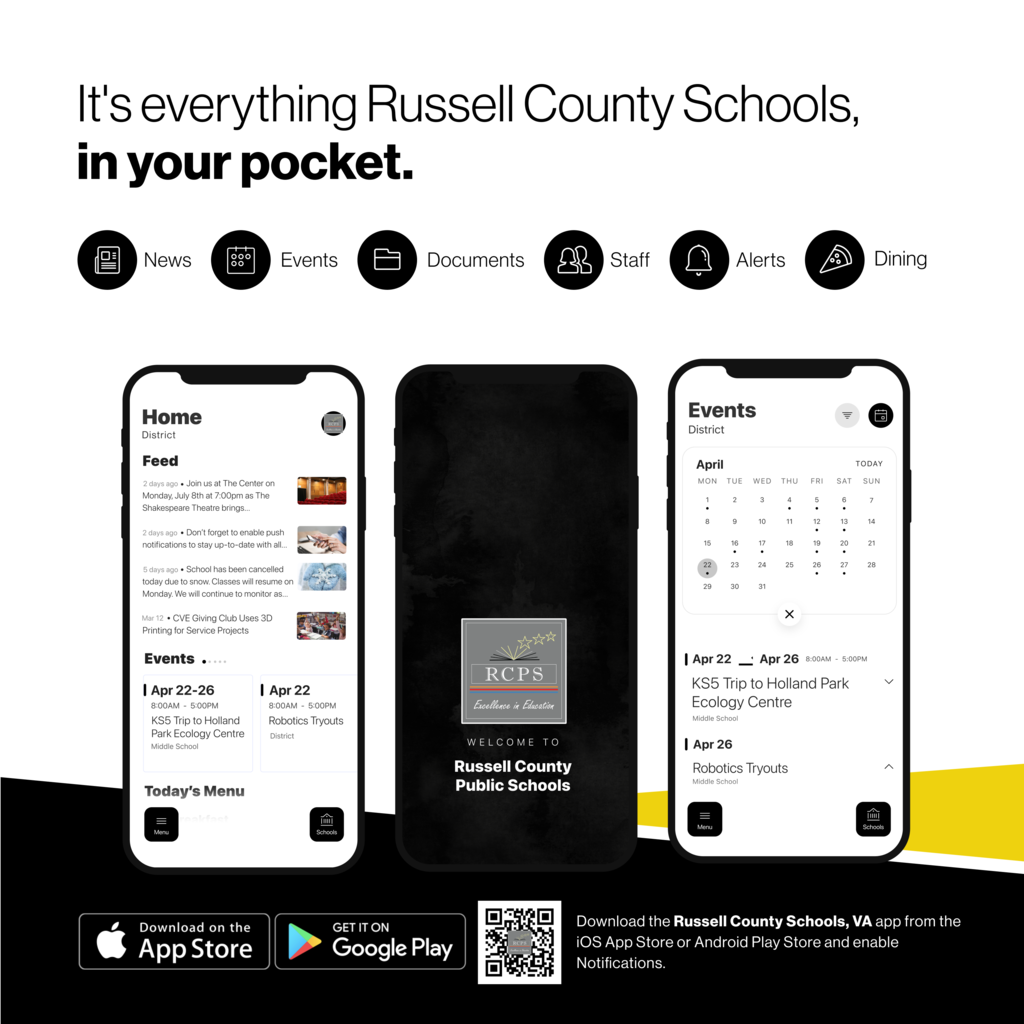 Southwest Regional Adult Education is offering a 12.5 week free training course to be a Certified Nurse Aide in three locations.

Students entering the 7th and 12th Grades must provide proof of required vaccination before school begins.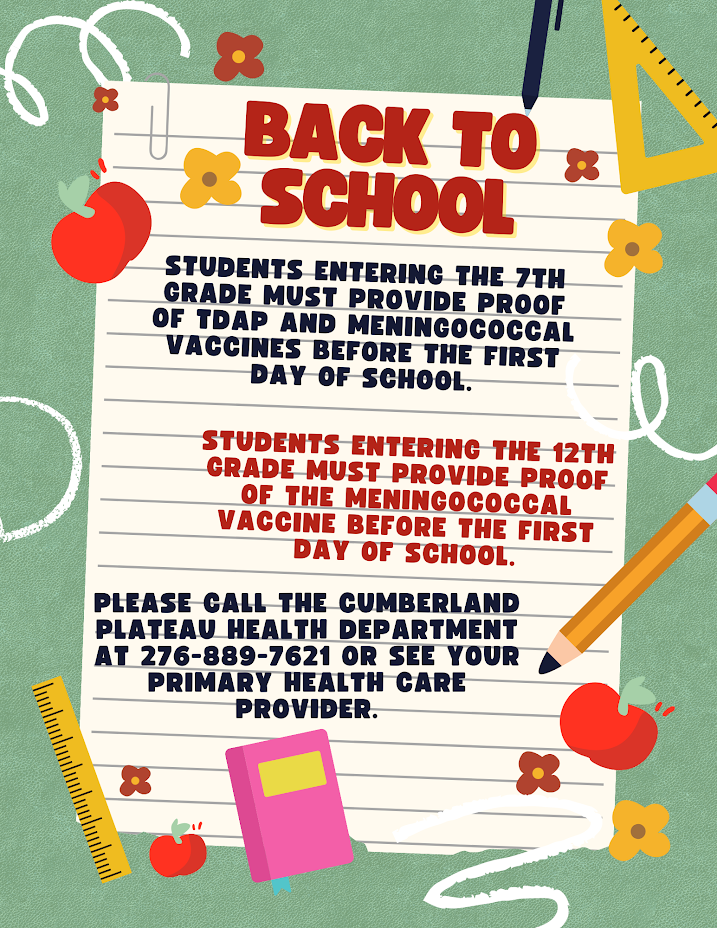 RCPS is excited to announce that we will be partnering with Ballad to implement a telehealth option through schools for staff and students in the 2023-24 school year. Parents will receive a consent packet and an informational flyer at the start of the school year.

Notice to Russell County Parents. Summer P-EBT will be issued starting July 22, 2023, from the Virginia Department of Social Services. All Russell County K-12 students are eligible to receive the one-time payment of $120. Please direct questions to the P-EBT Call Center at 866-513-1414 or 804-294-1633 Monday - Friday from 7 a.m. - 7 p.m. and Saturday from 9 a.m. - 2 p.m. You may also use the P-EBT Online Inquiry Form by going to the Virginia Department of Social Services Website:
https://vdss-prod-ct.powerappsportals.us/ebt-land/

The Virginia Department of Health has set aside some days in August for Back-to-School Immunizations. Please see the flyer for more information.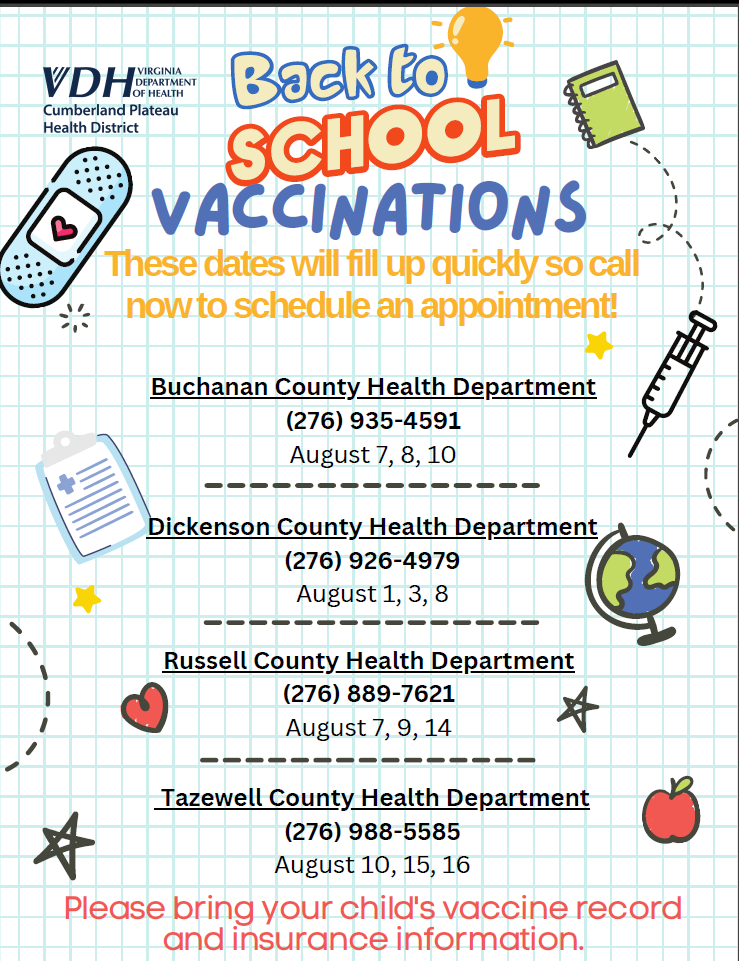 RACE PROGRAM Tuition-Free College Education for The Class of 2023. The link for Additional Information and Documents:
https://5il.co/1yd2z